Wonder Girls Analysis/ Wonder Years Review 9/22/2010 02:03:00 AMLaurenLCD
*There are two versions of this album. I will combine them as 1 for the sake for including songs that weren't on the original or weren't on the Taiwanese Edition. This will also be an analysis of the three separate years covered up to 2 Different Tears which will be given it's own review.*

Ah the Wonder Girls...

They never have any scandals, but they always stir up a storm.

From their humble beginnings to their meteoric rise with Tell Me and So Hot, these girls have gone through quite the few changes over the 4 short years.

This group debuted in 2007 and has gone through 2 changes in roster:

Sunye (Lead vocal/Leader/Soprano 3)
Sunmi (Sub vocal/Mezzo 3) *on hiatus. spot rumored to be in standing for her return*

Yeeun (Sub vocal/Mezzo 1)
Hyuna (Rapper/Contralto 1) *2007-2007/8. current member of 4Minute*

Sohee (Sub vocal/Mezzo 2/Soprano 1)
Yoobin (Rapper/Contralto 2) *2008-Present day. replaced Hyuna.*
Hye Lim (Sub vocal/Soprano 2) *2010-Present day. was going to be in Miss A before Sunmi's departure*


Sunye (2007-Present day):
She was/is not only the leader of the group, but the lead vocalist and carries the melody more often than not. She is the one most likely to get ad-libs. Her voice is strong and clear in all the songs she sings. She had the longest amount of training (6 years), and it shows in her *nearly* flawless performances.


Sunmi (2007-2010):
Sunmi has recently gone on hiatus for an indefinite amount of time to go to college full time. She was the 4th lowest voice in the group and would support Hyuna in bridging the gap between highs and lows with her low timbre.


Yeeun (2007-Present day):
Yeeun is what is known as the 'voice' of the group. She has the strongest vocals and this is evident in I Wanna which requires such power that someone like Sohee can't deliver without forcing and causing vocal strain.



Hyuna (2007-2007/8):
She has recently re debuted as a member of 4Minute, having been forced to retire as a Wonder Girl due to poor health. She was the rapper and contralto of the Wonder Girls (both positions seem to go hand in hand within many girl groups). She provided harmony for the others. Her current voice, either as a byproduct to her recovery or used for the sake of blending with her new style of music has become higher in tone.


Sohee (2007-Present day):
She is either loved or hated with the heat of 1000 suns. She auditioned to be an actress for JYP Ent., but was given the role of a Wonder Girl member. People are going to want to crucify me for my opinion. I personally admire her. I can acknowledge that yes, she is the weakest vocally, but then again, I think every group should have a member that doesn't BLAST OUR EAR DRUMS. Another reason I admire her is because she could have said 'Screw you! I didn't sign up for this!' and could have left the group at any time, but didn't because she knows that it's not all about her. (I don't say this to say that Sunmi didn't think about the others. I'm sure she did. But Sohee was given a position that she knows wasn't her strong point and works her butt off to do well regardless of criticism.) Over the years her voice has gone from her comfort zone (see Irony) to the highest voice and she is required to reach notes her fellow members might not be able to reach. She also serves as a second rapper at times as well as the occasional lead dancer.



Yoobin (2008-Present day):
Often in debates between CL (because of Blackjacks vs. Wonderfuls) or Hyuna (from fans of the first roster). She is the current contralto and rapper of the group. She often serves as the lead dancer as well and gives harmony to the others. She gives aesthetic backup for ad-libs. To date, she is second to Sohee in the least amount of parts because unlike 2NE1, Wonder Girls put more emphasis on vocals than raps.


Hye Lim/Lim (2010):
She was/is hated as much as Yoobin when she debuted, due to her 'replacing' Sunmi. She is equal to Sunye in regards to power and is a bit of a double threat. She can provide melody (as shown in 2 Different Tears) and has been known to rap. With Yoobin, she has the best English pronunciation and also has the best Chinese.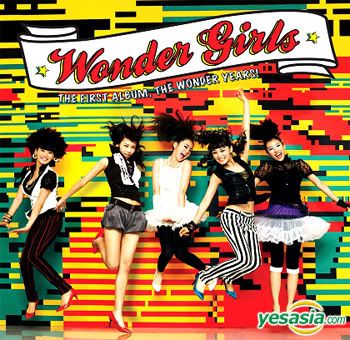 Artist: Wonder Girls
Album(s): Wonder Years Taiwan Special Edition (2010); Wonder Years (2007)
Track List:
1. Irony
2. Regret Heart
3. I Wanna
4. Ebabo/This Fool
5. Tell Me (W/ Yoobin)
6. Friend
7. So What? feat. David Kim
8. Wishing On A Star
9. Headache
10. Take It
11. Good Bye
12. Bad Boy
13. So Hot
14. This Time
15. Nobody
16. I Tried
17. Saying I Love You
18. Tell Me (Chinese vers.)
19. So Hot (Chinese vers.)
20. Nobody (Chinese vers.)
21. It's Not Love

The Wonder Years (both combined) covers the first three years since the girls' debut with Hyuna, up until their Nobody year in 2009. The songs are very... JYP-ish. JYP has a distinct style, combining elements from r&b, modern day hip-hop, and disco. So far, he is the only producer I know who has not fallen under the spell of autotune, not even in his own work. This is not to say that he's never used it. He uses it most with 2PM who (I find) is the weakest boy band vocally.

For the most part, I can't really bitch and moan about anything in the album(s).

Irony was a strong start as a debut. It's got attitude. It feels like a precursor to Miss A's Bad Girl Good Girl. It's the only song featuring Hyuna before she retired, and is the one where Sohee sings in her lower/mid register.

Regret Heart is melancholy, but soothing all the same time. It's mostly carried by the strongest vocalists of the group (Sunye, Yeeun, Sunmi) while Yoobin and Sohee are resigned to the chorus. Sunye gets to ad-lib her head off in this particular song.

I Wanna is a strong first track (original album) that really gets you up and wanting to dance. Yeeun uses her powerhouse voice to the fullest. Sohee softens the tone that Yeeun, Sunye, and Sunmi set to give way for Yoobin's rap (that for once doesn't get stuck within the last 5 seconds). There's usually something I have to complain about for instrumentals, but this one is great, even though it's all computerized. This just shows that a loop need not be made of autotuned blips and bleeps.

This Fool is light and bubbly. Sohee starts the song off and I can tell that it's not a song that will blow my ear drums off. The girls keep good control, not getting too hyped up and feeling the need to belt. This is why it's a good thing to have Sohee around. Without her to set the desired tone of the song, these girls would have always been trying to go all over the place with acrobatics. Believe it or not, it requires a lot of control and skill to sing at a controlled level without going off in pitch and it also teaches how to control air. This song could have easily been breathy in a way where you could hear each and every breath, but it isn't.

This is the song that put the girls on the map. Tell Me does utilize the dreaded bleeps and blips, but mercifully it doesn't bleed into the vocals. Sohee gets many parts; as many as Sunye usually gets. Yoobin made her official debut with this single and solidified her place a Wonder Girl with her well place rap.

Friend is a nice piano driven track. Sunye and Yeeun take over the vocals as expected. As usual, there is virtually no Yoobin or Sohee when wither of them could have easily gotten a solo.

So What? is probably my favorite track if only because there are more raps than the usual Wonder Girls track. There are also more layers than usual as well. With the exceptions of ad-libs, the Wonder Girls usually sing songs straight without much variance so this is a nice change of pace.

Wishing On A Star sacrifices Sohee's solo for Yoobin to get a rare solo singing. Her voice is mature in comparison to the others due to her deep tone. JYP, LET THIS GIRL SING MORE! It's not fair that she only gets a few seconds to rap, but you have to be cheap with her vocals too? What kinda ish-?

Headache is forgettable. I can only attest it to the fact that I'm not too into vocals where it sounds more like speaking. The instrumental isn't too impressive either. This track -even as I listen as I type- is background noise.

Take It is somewhat forgettable as well -if not for Yoobin's lightening fast rap! I wish there was a rap like this in the beginning. It would encourage me from turning to another track before the first chorus.

Good Bye isn't too danceable (contrary to JYP's encouragement to report to the dance floor). The girls show off that they can sing staccato. Yoobin's rap thus far has been very versatile from track to track. Unlike CL, I can tell each rap apart from each other from song to song. The instrumental sounds like it can be used to suit any artist's of music, in a generic kind of way. I've heard bits and pieces sampled in many tracks, from the drums to the synths.

Bad Boy is distinctly Wonder Girls. I can't explain why, but I can listen to the instrumental and hear the JYP-ness that gives it away.

So Hot: a song that is so narcissistic, yet at the same time makes fun of pampered celebrities. It's hard to make this connection without the video as a visual aid. It's rather fun to sing along to and the instrumental could have easily annoyed me, because if he so chose, JYP could have done a lot of processing to this track. *does Yoobin's rap*

This Time is a nice easy mid track, if not very complex in structure. It's a shame that Yoobin doesn't get any solos in this song. I think this would have been a good song to show off her vocals.

Nobody: the song with more remixes than I care to count. As much as I like this song (the original and Rainstone and Anybody mixes) I HATE THAT YOOBIN ONLY GETS A PART TOWARDS THE VERY END!!!! REALLY JYP? REALLY?

I Tried is okay. It's in the same vein as Ordinary Day or Baby Don't Cry. It's easy to listen to. Unlike the aforementioned titles, I find this one forgettable. It has an 'elevator music' feel.

Saying I Love You was penned by Yeeun and she's fair to her members unlike JYP. Yoobin gets to take the first couple of lines in each verse, barring Sunye's bridge. Everyone gets a fair shot to sing more than the chorus and have a solo. It's my favorite ballad from them. It also shows that JYP isn't a tyrant that doesn't allow his artists to indeed become artists.

*I won't go over the Chinese versions because they aren't essentially different aside from the language. I'm not Chinese and I don't speak Chinese, so I can't judge their accent and pronunciation (or lack-thereof).*

It's Not Love is a nice ending and doesn't feel like filler just to have another ballad. Sunye takes over this track while the others are assigned to the chorus. Once again , she takes the chance to sing her head off.

Verdict:

Dance tracks:
♪ ♪ ♪ / ♪ ♪ ♪ ♪ ♪
Hit and miss. Some are forgettable and are background noise.

Mid tempos:
♪ ♪ ♪ ♪ 1/2 / ♪ ♪ ♪ ♪ ♪
Not as hit and miss as the dance tracks but there are one or two tracks I find myself zoning out on.

Ballads:
♪ ♪ ♪ 3/4 / ♪ ♪ ♪ ♪ ♪
I don't know if it was because of the sheer size of 21 songs at once, but as time went on, some of them became background noise and felt more and more like filler.

Overall:
♪ ♪ ♪ 3/4 / ♪ ♪ ♪ ♪ ♪
Some songs just didn't make too much impact. Certain members could have gotten more parts and there's a lot of favoritism for particular members. Maybe it's because I'm used to hearing Big Bang, 2ne1, Brown Eyed Girls, and f(x), but I'm used to hearing the rappers have some participation for more than a few seconds. I'm not saying Yoobin should be an attention whore like CL, but she should have more involvement. Otherwise, make her a solo artist and make Wonder Girls a purely vocal group like Miss A. This is a problem with Sunye/Yeeun as much as with CL taking up 60% of each song she's in. More songs should be written like Saying I Love You in my opinion (and not just for the WGs). Each member gets their time to shine when Yeeun could have easily made it her show, but thankfully she didn't.

Labels: Music Reviews